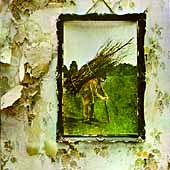 "A LADY WE ALL KNOW"


(This is the original version of a piece that appeared in the Rock Island (IL) Argus and Moline Dispatch in October 1996; copyright 2000, James A. Bartlett)

November 8, 1971: one of the world's most popular rock bands, Led Zeppelin, released a new album, one that they hoped would help them rebound from the critical flogging and disappointing sales of their previous release 13 months earlier. It did more than that; one song on the album made history. In the 25 years since the debut of "Stairway To Heaven," we've never stopped listening. Radio stations still play it in heavy rotation and get countless requests for it; fledgling guitarists quickly learn how to pick out its opening notes; its creators, guitarist Jimmy Page and singer Robert Plant, disappointed fans by electing not to play it on their recent tour.

This is the story of the most popular rock song of all time, where it came from, and where it's taken us since.


Page says he spent a long time working out "Stairway"'s instrumental track. Plant recalled listening to Page playing the chords one day, and being in a very bad mood, when "all of a sudden my hand was writing out the words 'there's a lady who's sure all that glitters is gold and she's buying a stairway to heaven.' I just sat there and looked at the words and I almost leapt out of my seat." Page says "It was almost as if [the song] just had to be gotten out at that time, there was something pushing it...."

The album containing "Stairway To Heaven" was notable for reasons other than its centerpiece song. It was the first album ever to appear without a picture of the group, the album title, or the record company name on the jacket--a decision Atlantic Records fought. "Names, titles and things like that don't mean a thing," explained Page. "What matters is our music. If we weren't playing good music, nobody would care what we call ourselves. If the music was good, we could call ourselves cabbages and still get across to our audience."
As if to drive home the point that titles don't matter, the album was released without one--just four mysterious symbols which appeared on the label of the record above the name of the band. Each member selected a symbol for inclusion, and Atlantic reluctantly supplied magazines and newspapers with the artwork so the title could be properly reproduced in print. Over the years, the album has come to be known by several names: "Led Zeppelin 4," "Four Symbols," "the runes album" (the group's preferred moniker for it), and "Zoso," which comes from the symbol Page selected for his segment of the title.

Two singles were released from the album. The chaotic "Black Dog" reached number 15 in February of 1972. "Rock and Roll" stalled at number 47 in April, but by that time radio stations were clamoring for "Stairway To Heaven" to be the next single. The group steadfastly refused to comply, and never did.

The distinction was lost on the listening public. Officially a single or not, "Stairway"'s popularity grew throughout the 70s. In 1976, it was the prom theme at my Wisconsin high school. A 1979 survey of radio programmers selected it as the top album track of the decade, a position it still holds in many surveys today.


Jim Hunter of Davenport (Iowa) radio station Q106.5 explains its appeal as a simple matter: "It's so catchy, it's got a simple melody, and great lyrics to it." Mark Diaz, a Zeppelin fan in Winnipeg, Canada, is more metaphysical: "It's got that 'epic' quality....it's as if bringing together Plant, Page, [drummer John] Bonham and [bassist John Paul] Jones summoned some sonic message from a supreme consciousness."


Zeppelin fans often interpret "Stairway" in mystical terms. Dana Drury of Sydney, Australia says, "I think we'd have to ask the devil for the answer." Drury was kidding, but it's not entirely a joke. Jimmy Page has a longstanding interest in the occult, and during the 70s owned a house in Scotland which formerly belonged to Aleister Crowley, the notorious poet, orgiast, and occultist who called himself "The Great Beast 666." Robert Plant was fascinated with Celtic mysticism. So it's not surprising that people began looking for a dark side of "Stairway To Heaven," and it's equally unsurprising that some claimed to have found it.

Stuart Olver picks up the story from Brisbane, Australia: "I first remember hearing this song in about 1981 at my high school in Durban, South Africa, when some well-meaning but misguided church representatives played it as part of a seminar on the Devil's influence in rock music." Supposedly, if you played "Stairway" backwards, you could hear the words "I will sing because I live with Satan," and other words of praise for Old Scratch.

Lots of people tried to hear the messages, with varying results. I thought I heard something, but since then I've heard similar "Satanic messages" in the theme song from Mister Ed, so I'm skeptical. Other people had different experiences. "No matter what we tried, we heard nothing," says Gooshie from Fullerton, California. "Then when we finished playing it, the record cracked in half on its own. We figured it was a fluke. We also ruined a good needle on the phonograph."


Throughout the 1980s, bands came and went (Led Zeppelin itself disappeared after Bonham's death in 1980); musical styles changed (in 1986, a band called Far Corporation released a dance version of "Stairway," to widespread indifference); but "Stairway To Heaven" continued to reign as the queen of all rock songs. The rise of "classic rock" radio in the 90s seems to ensure that it will continue to hold this exalted position for some time to come. University of Iowa professor Eric Rothenbuhler, who is currently teaching a course entitled "Radio, Records, and Popular Music" believes that if it weren't for classic rock radio, "Stairway" wouldn't be the cultural icon it has become. In the late 1970s, he says, "rock FM radio came to be dominated...by a certain group of recognizable artists of the 1970s. Led Zeppelin figured prominently in that group....'Stairway' was a soft hard-rock song, so programmers thought it would be good for appeal to females in a format otherwise dominated by music that was thought to appeal primarily to men." In other words, for radio, it was the right song from the right band at the right time, and it still is.

My own take on "Stairway To Heaven" is that, quite simply, there's never been another record remotely like it. Its calm, measured opening immediately grabs your attention. The lyric is intriguing. Who is the lady? What does "buying a stairway to heaven" mean? The record continuously builds, its forward momentum irresistible. When it kicks into overdrive, the mysterious lady of the opening reappears: "And as we wind on down the road/our shadows taller than our soul/there walks a lady we all know...." Her reappearance converts the lyric into a mystery that turns endlessly back onto itself.

Many bands would do well to create one moment that exciting over an entire career, but Zeppelin does it twice in the same song. When the band throttles down to Plant's acapella closing, it's absolutely breathtaking. Nobody had ever done anything like that before, and if anybody tries it ever again, they'll be criticized for stealing it.

"The runes album" never made number one in America. It has sold over 11 million copies to date, and was the largest seller in Atlantic Records' history until Hootie and the Blowfish came along with Cracked Rear View. A cultural phenomenon that large should be ripe for final analysis by now, shouldn't it?


Not yet. Researching and writing this piece, corresponding with Zeppelin fans on the Internet worldwide, and listening to "Stairway" over and over during the last quarter-century has brought me no closer to the definitive word on the phenomenon.

Eric Rothenbuhler says that "'Stairway To Heaven' on radio is like 'My Way' in nightclubs," a perennial, universal favorite. Rock journalist and longtime Zeppelin confidante Ritchie Yorke calls it "a song of shimmering and flourishing beauty....its lyrics seemed to embody the individual's prevailing quest for a spiritual rebirth." Jimmy Page calls the song "the epitome of what we're about." Page is referring to the band, but some would argue he means mankind as a whole. Q106's Hunter says "It takes people back in time to when they were young and full of optimism, which is what the song is about."

But the song has fans who were born long after its release. "I cannot trace my earliest exposure to [it]," says 22-year-old Mark Diaz. "It's one of those songs where I say 'you can burn all those other records, as long as I've got this song.'"

The last word belongs to Brad Newman, who administers an exhaustive Led Zeppelin site on the Internet: "'Stairway' has endured for 25 years because of its sheer emotion, force, and power. It represents the good and bad in all of us....I dare you to find a song that has had more interest in it."